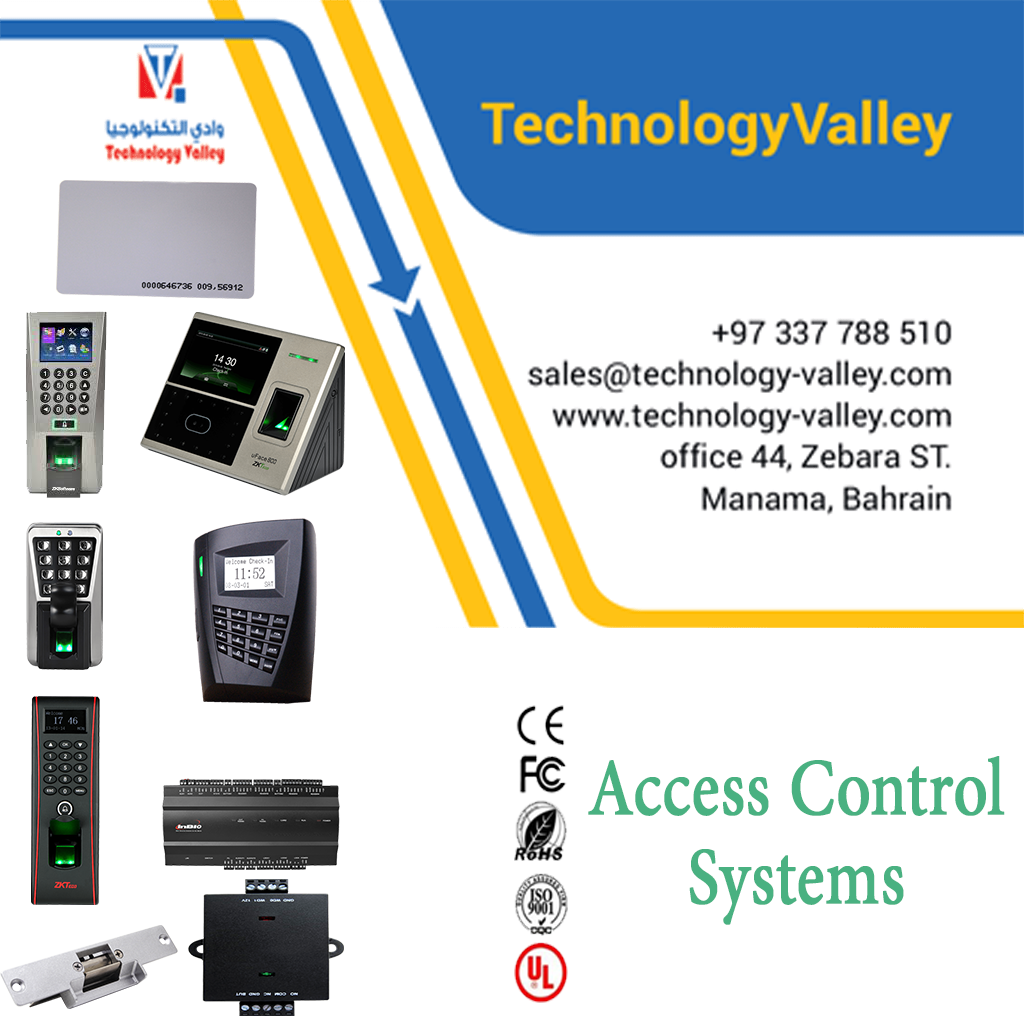 What's Access Control Systems & products in Bahrain
March 6, 2018
About X-Ray Baggage Scanner/Cabinet X-Ray System
General Knowledge about Baggage X-Ray Scanner
What is Baggage X-Ray Scanner?
Baggage X-Ray Scanner is considered to be one of the most important security systems; usually it can be used in public facilities like: airports, railway stations, Underground Railway Stations (METRO). And this security system is used for checking and scanning the dangerous items or any threaten elements which can be included inside their bags. Baggage X-Ray Scanner is consists of a thong to move the bags inside the scanning cabinet and monitor or screen to display the bags contents including any suspicious items.
Why we have to use Baggage X-Ray Scanner?
Baggage X-Ray Scanner has many advantages like the ability to scan and monitor any expected dangers that might happen through explosive materials, restricted knives, or any other items which can be harmful for the people's security. As Baggage X-Ray Scanner is able to scan and display the images vertically and horizontally, and it has a speed to scan both organic and non-organic materials or light metals according to the atomic number for each item.
Baggage X-Ray Scanner is used for scanning baggage in airports, as it can scan the trucks before crossing the international boarder. X-Ray can be used in hospitals to scan the abnormal actions that happen inside our bodies as well and it can be used in medical laboratories to scan and analyze the specimens inside laboratories.
Is it safe and secure to stand or to walk beside the Baggage X-Ray Scanner at the time of producing the X-Ray?
Yes, this security system has been designed and manufactured according to specific international and healthy measurements that are advised and monitored by the federal and international associations responsible for security from x-ray. The system of x-ray is measured and controlled to produce 0.5 milliroentgens in one hour.
Is it safe for pregnant women to stand or to walk beside the Baggage X-Ray Scanner at the time of producing the X-Ray?
Yes, the baggage X-Ray Scanner is designed and manufactured to be safe and secured for children and pregnant women even during the time of producing the X-Ray and these examinations have been tested and monitored by the global measurements certified from the the international associations of health around the world.
Is it necessary for the technicians who are responsible for installation and programming the X-Ray systems to wear or to use radiation badge?
According to the department instructions which is responsible for monitoring the employees and technicians who are dealing with the baggage x-ray scanners, they said that it is not necessary to use or to wear radiation badge.
Baggage X-Ray Scanner General Features and Functions:
This product is using in the entrances of airports, shopping malls, 5 star hotels, etc.
The product is working with X-Ray.
Possibility to scan briefcases, luggage, postal parcels, and small packages.
The product is measuring the atomic number for any material and displays the number on the screen.
Possibility to save images.
Possibility to save images arranged including to copy these images on other types of storage.
 Displaying mood: vertical and horizontal for suspicious items or material.
Using the X-Ray system is designed to be healthy and secured according to the global healthy measurements and the international associations of health.
The product has been provided with automatic alarm for suspected items.
 The product is providing scanning with several colors.
The product is provided with thong for moving baggage in addition to two tables, for each table and metal rollers to simplify moving the baggage and packages.
Possibility to display each type of materials with different color like explosive materials, organic materials, and other materials.
About Metal Detectors
Metal detectors simply are security systems which responsible for scanning and find the different kinds of metals and these security systems are designed and manufactured by electromagnetic fields. There are different types of metal detectors like handheld metal detectors, mobile metal detectors, or standing installed metal detectors (walking through metal detectors) that can scan and find the hidden items and components that may threaten the people's security.
Walking through metal detectors an be found in sensitive places that need to be protected and secured like airports, public schools, courts, etc, and they should located in the entrance of the facility to guarantee avoiding any kind of suspicious and harmful items to be passed or crossed inside the facility which cause any kind of danger to the innocent people.
Metal detectors are differs from baggage X-Ray scanner because baggage X-Ray scanner is drawing the prohibited items on a screen, while metal detectors scan and find metal elements through sensors (sensitive units) installed in the security system and producing alarm sound in addition to small lights turning on and off in case of finding any kind of metal and this description is designed exactly in walking through metal detectors.
Metal detectors are playing a very necessary role in protecting the people and they are helping to reduce the rates of violence and crimes. So as we explained before that these systems are helping to scan and find out the dangerous thing like knives or guns or etc.
What is the most important type of metal detectors and most wanted or most used?
The most important type of metal detectors is the walking through metal detector that can be installed in airports, schools, public facilities which is necessary to be secured. This security system (walking through metal detector) consists of three closed sides: one side located above the heads and connected to the other two sides from the angles and these to sides are located on the right and left and should be as a stand position. Through these three sides there must be a space enables the person to go through it to know if the person has something suspicious or dangerous which is not allowed to be carried out.
Do we have to be worried about our health if we walked through metal detector?
People thought that walking through metal detectors have dangerous and side effects on our health; so other types of metal detectors have been manufactured like handheld metal detector to make the scanning process easier to the people if they some doubts about the walking through metal detector. But in general all these types of metal detectors specially walking through metal detector are designed and manufactured to be secured and safe on the humans' health even for pregnant women.
What are the benefits of using metal detectors?
Protecting people and saving their lives became the first priority in our life. So, protecting people's lives became necessary to avoid and reduces the terrorism and criminal attacks, and to fail the criminals from causing any dangerous ways that might be harmful to innocent people. Now it is important and urgent for metal detectors to be installed in public facilities and sensitive places that can be easy targets for criminals and terrorists like: airports, schools, libraries, and etc.
The types of metal detectors:
Handheld Metal Detector
The handheld metal detector is easy to be carried and it can be use for pointing and identifying the specific locations which include metal items.
 Walking-through metal detector
Walking-through can be a security system which has to be installed vertically; it is the most important type of metal detectors and most wanted. This type of metal detectors is necessary to be installed in important and public facilities like airports, public schools, shopping malls, etc.
About X-Ray Baggage Scanner/Cabinet X-Ray System